There's nothing like a great book, and a book that supports individual liberty is even better!
Below is our list of best conservative books for 2019, compiled by The New Revere and StoppingSocialism.com teams. Unlike some other "best books" rankings, our list is ordered based largely on customer reviews, although the larger list of books we examined was selected based on our own criteria.
SEE OTHER RANK LISTS BY CLICKING HERE
What, exactly, constitutes a "conservative" book? It's pretty simple: If it promotes limited government, then we were willing to take a hard look at it. We tried our best to be as unbiased about our selections as possible, and we think the book list reflects that. Although all of these authors are undoubtedly "conservative" or "libertarian," they have very different views on a number of issues, including whether conservatives should support President Trump.
We hope you find the book list useful as you plan your reading list for 2020!
-New Revere/StoppingSocialism.com
P.S. If you haven't taken a look at Glenn Beck's upcoming "Arguing with Socialists" book, check it out here! It's scheduled for release in April 2020. We've seen a pre-publication draft of the book, and trust us, it's going to be off-the-charts good.
Best Conservative Books 2019
PHOTOS: Ben Shapiro speaking at the 2018 Conservative Political Action Conference (CPAC) in National Harbor, Maryland. Photo by Gage Skidmore. Attribution-ShareAlike 2.0 Generic (CC BY-SA 2.0); Donald Trump, Jr. speaking with attendees at the 2019 Teen Student Action Summit hosted by Turning Point USA at the Marriott Marquis in Washington, D.C. Photo by Gage Skidmore. Attribution-ShareAlike 2.0 Generic (CC BY-SA 2.0)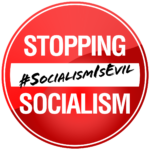 Stopping Socialism is a project of The Heartland Institute and The Henry Dearborn Center for Human Rights, a nonprofit association of professionals and scholars.