BlackRock is the wealthiest and most influential investment management firm on Wall Street, with more than $10 trillion in assets under its stewardship. Its influence, however, does not end in the corporate and financial realms. In fact, for years, the Larry Fink-led behemoth has cultivated political alliances and hired individuals with high-level government connections while it has developed unprecedented and highly lucrative strategic partnerships with the U.S. Federal Reserve.
Yet, upon a thorough investigation of White House visitor logs and other relevant documents, it appears BlackRock's influence runs deeper than ever. Our most important finding reveals that one of BlackRock's top executives not only has deep personal relationships with Biden administration staff, but has himself been a frequent visitor, meeting repeatedly with staff from the Office of Cabinet Affairs and the National Security Council.
White House visitor logs show Thomas E. Donilon met with Biden administration officials at least eight times throughout 2021. Donilon is currently chairman of the BlackRock Investment Institute (BII), BlackRock's personal think tank dedicated to assessing geopolitical investment risk, though he has been an important figure in the U.S. foreign policy and national security establishment for decades.
Donilon was national security advisor under President Obama, foreign policy lead for Hilary Clinton's 2016 campaign, and was heavily rumored to be tapped as Central Intelligence Agency director by President Biden. He is a leading member of global organizations and think tanks such as the Council on Foreign Relations, the Aspen Strategy Group, and the Trilateral Commission.
Due largely to his connections and influence, BlackRock hired Donilon to join the highest echelons of its leadership. According to its website, BII "leverages the firm's expertise and generates proprietary research to provide insights on the global economy, markets, geopolitics and long-term asset allocation – all to help our clients and portfolio managers navigate financial markets."
Essentially, it is Donilon's job as BII's chairman to help BlackRock clients make money, and shield them from investment risk, by gaining access to information on geopolitical events. Naturally, such information would be substantially facilitated by connections to White House staff closely plugged into policymaking. Although we cannot prove that Donilon has been privy to national security secrets, the information we have attained is strongly suggestive that a cronyist, and possibly corrupt, arrangement exists between the Biden administration and BlackRock.
Donilon's Meetings
White House visitor records are typically made available approximately three to four months after meetings occur—despite the policy clearly stating, "visitor log disclosures will occur on a monthly basis." (See below screenshot).

Because of this lag time, it is possible Donilon has had additional meetings that we do not yet know of. Yet, the records to which we do have access show Donilon has met at least eight times with Biden officials at the White House.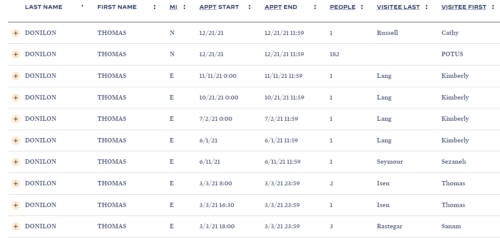 We can likely assume Thomas N. Donilon to be the same person as Thomas E. Donilon (the E stands for Edward). One of Thomas N. Donilon's meetings is with Cathy Russell—Thomas E. Donilon's wife. More on that later.
However, the meetings of greater concern are those Donilon had with Sanam Rastegar, Thomas Isen, Sezaneh Seymour, and Kimberly Lang.
Rastegar and Isen are both associate directors for Cabinet Affairs, according to the White House's annual personnel report, released July 1, 2022.
Seymour works for the National Security Council, as deputy national security advisor for cyber and emerging technology. She is also senior advisor to the deputy assistant to the president. Seymour "has held various domestic and foreign policy roles at the nexus of national security, emerging technology, sustainability, and trade." Analysis of federal pay records indicates she is a GS-15, making her one of the highest paid officials in the U.S. government. And, these records only extend through 2016.
Perhaps most curiously, Donilon has met on four occasions—in one-on-one meetings—with a figure named Kimberly Lang. Despite a detailed investigation into Ms. Lang's role in the White House, we have yet to determine precisely which job responsibilities she fills.
Who is Kimberly Lang?
Lang is absent from the White House Annual Reports to Congress in both 2021 and 2022, despite President Biden's "commitment to transparency."

And yet, federal pay records indicate her to be involved with the National Security Council as of 2016, as a GS-13. Moreover, Lang has clearly been working at the White House under the Biden administration, having held at least 344 meetings dating as far back as January 29, 2021.
Beyond Donilon, Lang's visitors have often included top foreign policy, military, diplomatic, and national security elites. Some of the more noteworthy names are listed below.
Director of the CIA William Burns
U.S. Undersecretary of Defense Colin Kahl
U.S. Undersecretary of State Victoria Nuland
Vice Admiral Lisa Franchetti, director of strategy, plans, and policy for the U.S. military's Joint Staff
Former NATO Supreme Allied Commander Europe James Stavridis, who is currently managing director of the Carlyle Group
Chevron Chairman and CEO Michael Wirth
Visa Chairman and CEO Alfred Kelly, Jr.
French Ambassador Philip Etienne
Haitian Senate President Joseph Lambert
Lang has also met with numerous experts and political scientists specializing in geopolitical risk, terrorism, nuclear threats, and economic sanctions.
As for the relationship between Donilon and Lang, a review of numerous emails obtained from WikiLeaks indicates the two have worked closely together since as far back as 2010, when Donilon, as national security advisor, ran the National Security Council to which Lang has been linked.
Lang was closely apprised of Donilon's whereabouts, often directly communicating with him in addition to powerful government officials such as former Secretary of State Hillary Clinton and current National Security Advisor Jake Sullivan.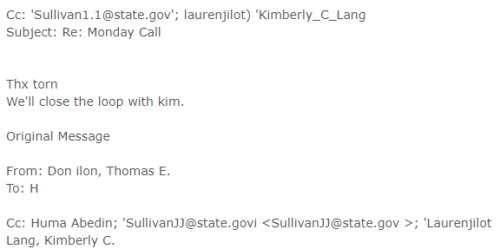 Clearly, Lang is plugged into the nerve center of policymaking. For Donilon to be meeting with such a figure is highly inappropriate, and raises significant ethical concerns. There are no publicly available records about their purpose, nor have there been public statements made by the Biden administration, BlackRock, or Donilon.
Nevertheless, Donilon's personal connections to the Biden administration run even deeper, raising additional concerns.
Personal Connections
Thomas's brother, Mike Donilon, is the senior advisor to the president and one of Biden's closest confidantes. Mike served as Biden's chief strategist throughout the 2020 presidential campaign. Mike is undoubtedly privy to a trove of valuable information.
Thomas Donilon's wife, Cathy Russell, was the head of the powerful White House personnel office during Biden's first year in office, though she left the administration to become executive director of UNICEF on February 1, 2022. As the director of the Presidential Personnel Office, Russell was vested with the important task of hiring and vetting administration employees.
Perhaps not so coincidentally, the Donilon duo's daughter, Sarah, also works in the Biden administration, as a staffer for the National Security Council, giving Thomas Donilon yet another important contact in the White House.
Patricia and Edward Donilon have each been hosted at the White House as well. Patricia is Mike's wife, and Edward is Thomas's son.

Other BlackRock / White House Synergies
BlackRock has other substantial integrations with the Biden administration. For example, Brian Deese, who is now Biden's National Economic Council director, was formerly global head of sustainable investing at BlackRock. Wally Adeyemo, deputy secretary of the Treasury Department, previously served as chief of staff to BlackRock Chairman and CEO Larry Fink.
Speaking of Fink, he, too, appears to have met secretly at the White House. Visitor logs show that on February 8, 2022, just two weeks before Russia's invasion of Ukraine, Fink met with Steve Ricchetti, counselor to the president. Ricchetti served as chairman of Biden's 2020 presidential campaign, and has been described as the "yin to the yang" of Biden's other highly trusted advisor — Mike Donilon.
Why is the Biden administration frequently meeting with important players at BlackRock?
Have other former BlackRock employees been in contact with current BlackRock staff?
Have BlackRock's financial interests impacted public policy?
Has advance knowledge of the Biden administration's policy decisions financially enriched BlackRock?
Has classified intelligence on geopolitical events such as the war in Ukraine — and the Biden administration's response towards Russia — allowed BlackRock to divest itself from risky holdings?
Gaining answers to these questions is vital, as the evidence points in the direction of — but does not yet definitively show — a disturbing degree of cronyism between the White House and the world's largest private asset manager.
We have submitted Freedom of Information Act requests to relevant agencies, and are awaiting further information.
Stay tuned.

Jack McPherrin ([email protected]) is a managing editor of StoppingSocialism.com, research editor for The Heartland Institute, and a research fellow for Heartland's Socialism Research Center. He holds an MA in International Affairs from Loyola University-Chicago, and a dual BA in Economics and History from Boston College.