Just over a year ago, the World Economic Forum (WEF) unveiled its grand globalist plan called the Great Reset.
In 2020, due to the COVID-19 pandemic in particular, the WEF's plan to implement a new world order gained traction and resonance in nations around the world, including the United States, where the incoming Biden administration has already embraced it.
The Great Reset is a multi-faceted plan that seeks to undermine free-market capitalism, redistribute wealth on a global scale, and rewrite the "social contract," among many other disturbing things.
Charles Steele, Roger Kimball, Ethan Stoneman, and John Burtka break down the Great Reset, in all its troubling details, during a recent episode of The Radio Free Hillsdale Hour. Listen now using the player below!
PHOTO: World Economic Forum sign. Photo by the Flickr account of the Ministério da Indústria, Comércio Exterior e Serviços. Attribution-ShareAlike 2.0 Generic (CC BY-SA 2.0)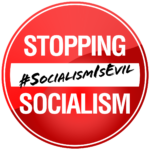 Stopping Socialism is a project of The Heartland Institute and The Henry Dearborn Center for Human Rights, a nonprofit association of professionals and scholars.