In Episode IV of The Heartland Institute's Ill Literacy podcast, Heartland's Tim Benson is joined by Dr. Bjørn Lomborg to discuss his book, False Alarm: How Climate Change Panic Costs Us Trillions, Hurts the Poor, and Fails to Fix the Planet. In this episode, Benson and Lomborg discuss how, contrary to what alarmists in media and academe tell you, climate change really isn't an "existential" threat to the planet, and they delve into the specifics.
Among other topics, they chat about polar bears, hurricanes, droughts, flooding, wildfires, and how human innovation and adaption are already helping to mitigate climate damage. They also discuss the ineffectiveness of the Paris Climate Agreement and how the Green New Deal makes for absolutely terrible policy.
PHOTO: Extinction Rebellion-11. Blackfriars Bridge, London. Photo by Julia Hawkins. Attribution 2.0 Generic (CC BY 2.0)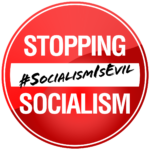 Stopping Socialism is a project of The Heartland Institute and The Henry Dearborn Institute for Liberty, a nonprofit association of free-market, pro-liberty professionals and scholars.